Lavender Dreams Wedding Theme
|
Lavender is one of the most romantic icon ever. Women all over the world drool at the fragrance, color and dreams of lavender fields spread as far as the eye can see. Nature-loving Brides and Grooms can go a step ahead and make it the focal point of their wedding by planning a country-style Lavender themed wedding. Dress up your invitations, reception decorations, cake, food, attire and favors with different hues of the color Lavender and accent all of them with real Lavender.
Here are some beautiful ideas to personalize your wedding details with Lavender – color, fragrance and texture!
Lavender Invitations
You can choose to get invitation cards printed with a Lavender motif, but if want your invitations to be really fragrant, look for something that uses real Lavender. This twist on the 'Message in a Bottle' invitations is a lovely way of letting your guests know about your wedding theme.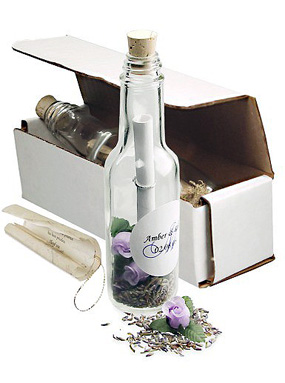 Lavender Seeds Message In A Bottle
Available from Hansol Ellis for $3.59.
Decorating in Hues of Lavender
The real Lavender color is a dark violet-pink shade and you are likely to overdo it if you choose only that color. It would a great idea to use different shades of violet for a Lavender inspired wedding. From the darkest violet to the light purple you see in Lavender-based products, choose your palette for decorating the reception venue.
Keep table linen like runners and chair sashes a lighter shade of purple and add hints of dark Lavender color using ribbons.
For that magical aroma of Lavender that will invigorate your senses, add the real thing. Use Lavender to create easy centerpieces and add a twig to each place setting.
You can mix Lavender with other flowers to create centerpieces but it also looks lovely on its own in its minimal look. Here, a bunch of Lavender stems stands in a galvanized planter powder coated in purple paint.
Lavender Bouquets
Add a touch of country to your wedding by skipping the traditional floral bouquet and making a nature-inspired Lavender bouquet of hand tied Lavender stems.
The groom can carry your Lavender theme forward with a Lavender boutonniere tied with burlap.
Attire
Colored wedding dresses are so in vogue! You can shop for a light hued pastel shade of Lavender in your favorite style of wedding dress.
If a colored dress isn't exactly your style, you can still add a touch of Lavender to your wedding day attire through your accessories. Pop a bright violet color in your look for the day with your heels or jewelry.
This pretty handkerchief available from Online Bridal Store will make a wonderful keepsake of your Lavender Dreams wedding.

Stems of Lavender Handkerchief – $13.35
Lavender Wedding Cake
Decorate your cake in the Lavender Dreams theme by using real Lavender.
And why just the outside? You can ask your baker to create the cake itself or just the frosting in a Lavender flavor.
Lavender Flavored Food
Add Lavender to your wedding menu by incorporating some lavender flavored desserts and snacks.
Photography Ideas
Make lasting memories of your awesome Lavender themed wedding with some unforgettable photographs. If your venue has Lavender meadows, go out into them and have some stunning shots taken.
Solo Bride poses will look as lovely as those of the two of you together. If there are no Lavender fields around your venue, create rectangular Lavender wreaths and use them as large photo frames to hold as props for wedding photographs.
Favors and Gifts
Lavender itself makes for a great gift and is ideal to replace confetti and rice for throwing as the newly married couple leaves. Hand guests cones filled with fragrant Lavender to throw.
You can purchase Lavender 'wedding rice' in sachets online:

Lavender Wedding Rice
For favors, you can choose from a variety of beautiful looking lavender products like soaps, candles, sugar almonds etc. Or you can also give Lavender as favors. Here are some ideas on how Lavender seeds can be attractively packaged for giving as favors.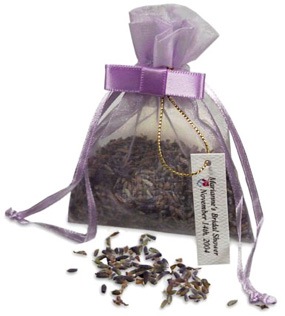 Lavender Seeds Favor Bag – $2.29
from: HansonEllis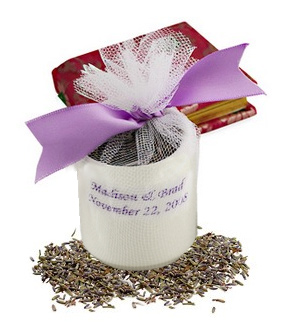 Lavender Seeds Sake Cup Favor – $2.79
from: HansonEllis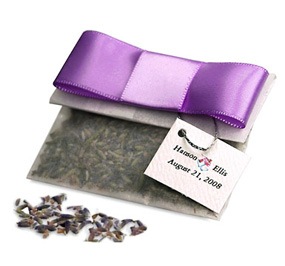 Lavender Seeds Glassine Bag Favor – $1.29
from: HansonEllis