Destination Bridal Style 1032 – $999.00 from: The Dessy Group
Spring is a popular time for couples to tie the knot. After all, spring is a season associated with new beginnings and romance. There are many ways to incorporate the beauty of the season into your wedding. The flowers, decorations and wedding cake can all celebrate the blossoming flowers and soft colors of this gorgeous time of year. Another important aspect of your wedding that can celebrate springtime is your wedding gown.
Light, Floaty Fabrics
Say goodbye to the heavy fabrics and long sleeves popular for fall and winter. Spring is all about light, floaty fabrics and showing more skin. That doesn't mean you can't wear a traditional gown. There are a variety of traditional yet spring appropriate gowns that you can select from. Ballerina style skirts are popular for spring because they're light and airy. Or, try a romantic empire-waist gown for a fairy-tale princess look. Depending on your climate, sleeves can be anywhere from short to non-existent. Warmer climates are perfect for sleeveless styles, tanks and spaghetti strap gowns.
Mori Lee Bridal Gowns Style 2901
Bonny Bridal Gowns Style 8800
Eden Bridal Gowns Style 2404
Impression Bridal Gowns Style 6819
MS-M1099Z Mia Solano Wedding Gown
MS-M2773L Mia Solano Wedding Gown
Watters Bridal Gowns Style 12776
Watters Bridal Gowns Style 12456
Moonlight Bridal Gowns Style S1981

Something Less Traditional
If you're seeking something a bit less traditional, go for a slim fitting sheath dress that shows off your figure. Depending on how casual your wedding plans are, you may even be able to wear a shorter dress. Color is another important aspect of choosing your dress. The most popular color for a wedding dress is white. However, many brides are going for other shades such as ivory, beige, peach, rose or even periwinkle.
Tessa Wedding Gown
MS-M9827L Mia Solano Wedding Gown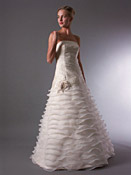 Divine Collection Wedding Dress – D602
Jacquelin Bridal Gown Style 15413
Watters Bridal Gowns Style 12599
Eden Bridal Gowns Style 2332
Impression Bridal Gowns Style 10009
ED-1338 Eden Wedding Gown
Watters Bridal Gowns Style 12345

Accessories
After you've selected the perfect wedding dress, it's time to choose your accessories. Go for delicate pieces of jewelry with a spring theme. For example, you might go for soft pearls or a pendant shaped like a flower. Speaking of flowers, try weaving them through your hair for a romantic spring hairstyle. Or, tuck a glittery butterfly comb into your tresses for a flirty look. Keep makeup soft with shades of pale pink on lips and cheeks. Accent eyes with neutral shadow and black mascara for a romantic yet defined look, or try sweeping a pale lavender shadow over lids for a touch of springtime color.
Anthony David® Handbag with Swarovski Crystal – Fade To Pink
Anthony David® Handbag with Swarovski Crystal – Mini Yellow Rose
Anthony David® Swarovski Crystal Turquoise Pave Bracelet - Heidi
574 Cleopatra
V021 Eden Veil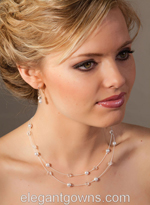 Bridal Jewelry Set 948
Anthony David® Hair Clip Barrett with Swarovski Crystal - Sarah
Stackable Bangle Bracelet with Aurora Borealis Swarovski Crystals – Ally
Floral Bracelet & Earring Set Encrusted with Swarovski Crystals – Christina
Nina's Silver CZ O Bracelet
Sterling Silver Heart Flower Stud Earrings
The Three Ring Pendant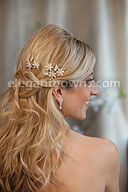 Bridal Hairpick 3268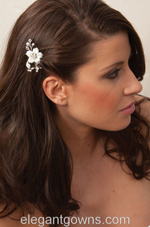 Bridal Hairpick 3250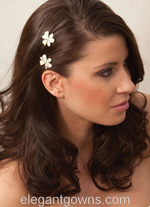 Bridal Hairpick 3252

Dresses for Spring Bridesmaids
For your bridesmaids, select a dress style that is universally flattering, like a mid-length or floor-length A-line. Fabrics should be light and airy. You may want to go with a floral print, or choose a solid pastel shade that coordinates with your chosen wedding colors. Present your bridesmaids with a small accessory like a spring theme hair barrette, necklace or bracelet that they can wear on the big day.
MS-MB9700 Mia Solano Bridesmaid Dress
ED-7218 Eden Bridesmaid Dress
ED-7264 Eden Bridesmaid Dress
ED-7270 Eden Bridesmaid Dress
ED-7267 Eden Bridesmaid Dress
Judy Bridesmaid Dress
Allure Bridals Prom Dresses Style 6354W
Allure Bridals Prom Dresses Style 6299
Jim Hjelm Brides Maids Dresses Style 5888