Butterfly Themed Wedding Ideas for a Romantic Spring Wedding
|
Pretty, Chic and very romantic – Butterflies make for a lovely theme for any wedding, especially a Spring or Summer wedding! Here are some beautiful ideas for decorating and dressing for a Butterfly themed wedding.
Season
Spring is a time of rebirth and renewal. Many couples choose to marry in spring for various reasons. Spring weddings are traditional and beautiful. Blossoming flowers, chirping birds and warm sunshine all combine to make spring a magical time of year. Celebrate your spring wedding with a fun butterfly theme and watch your most romantic dreams take flight!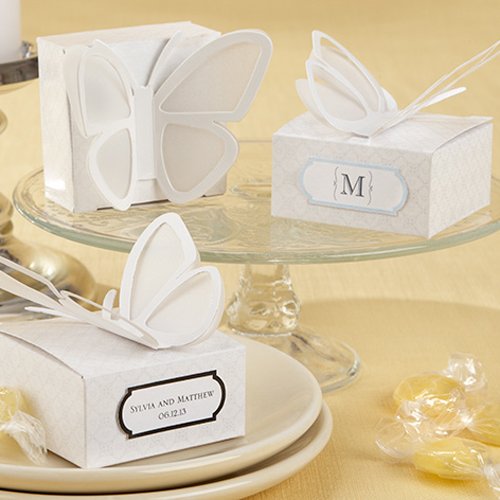 Personalized 3-D Butterfly Favor Boxes
Location
Outdoors is the perfect place for a spring wedding. A spacious backyard or park can make the ideal location for your ceremony and reception. Traditionalists or those in cooler climates may decide to hold their wedding in a church or other relevant indoor location, which is perfectly appropriate for all seasons.
Invitations
For a butterfly theme spring wedding, you'll want either butterfly shaped invitations or those that feature images of butterflies on them.
Be sure to specify whether the wedding is indoors or outdoors and always request an RSVP. Send out the invitations at least two months ahead of time so that guests will have plenty of time to respond.
Decorations
You'll want to select wedding colors that match your theme. There are all different kinds of butterflies in all different colors. Go for solid color accents like streamers and balloons, combined with a butterfly-printed tablecloth.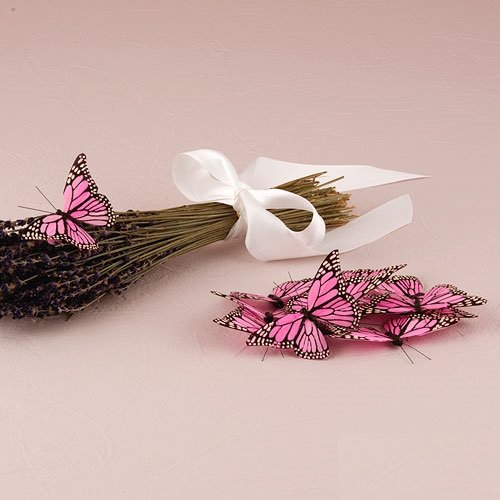 Hand Painted Butterfly Decorations
Decorate the wedding venue with fake butterflies.
You can even hang them from the ceiling with clear string or wire. Place one at each place setting for a lovely effect.
Create an Butterfly themed arch of wrought iron which will serve as a beautiful backdrop for your wedding pictures. You can simply add large white butterflies to a basic iron or metal arch by gluing them on.
Attract Butterflies! If your wedding is outdoors and you want to attract real butterflies, choose appropriate wedding flowers like hollyhock, red columbine, honeysuckle, butterfly bush, rose of Sharon, delphinium and fuchsia.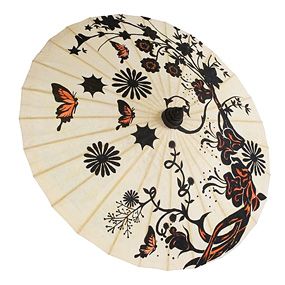 Hand Painted Butterfly Garden Paper Parasol
Attire
When choosing a wedding gown, think light and airy. A ballerina-style gown with a frothy tulle skirt is ideal. If you would like to take a little more with the theme, choose a 'Butterfly Wedding Dress' like this one from BHLDN:
or this one from Alfred Angelo:
If you are unable find a ready-made dress, you can order a custom gown like this one:
Wear butterfly jewelry like a necklace, earrings or hair clip. For bridesmaids, choose butterfly patterned dresses or solid pastel dresses accented with butterfly jewelry.
The Groom's attire can sport this lovely Butterfly Boutonniere:
Bridal Bouquet
Nestle fake butterflies in your wedding flowers and bouquet.
An alternative to fresh flowers is a gorgeous bouquet made of vintage butterfly brooches.
Menu
Your wedding menu should reflect the tastes of the season. For example, try pairing a light dish like chicken, pork or fish with steamed or roasted seasonal vegetables.
Cupcakes are the hottest trend of the season. Ask your baker to make butterfly themed cupcakes for dessert.
Butterfly Wedding Cake
Flavors: There are lots of appealing choices for your wedding cake. You could go with traditional chocolate or vanilla, but why not go with something more invocative of the season? Lemon, carrot, berry and angel food are all great springtime wedding cake flavors.
Butterflies on the Cake: Adorn your wedding cake with colorful butterflies made from frosting or use cake decorations.
Check out our Butterfly Wedding Cake
For artificial and edible butterflies for your cake, see these resources: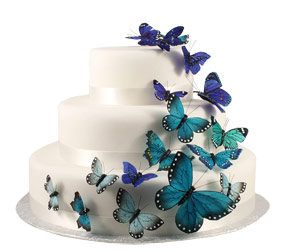 Hand Painted Something Blue Butterfly Cake Decoration – $19.95
from: HansonEllis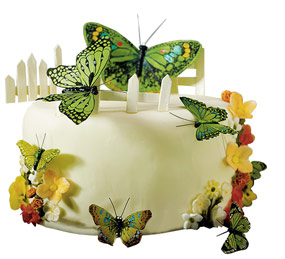 Hand Painted Garden Green Butterfly Cake Decoration – $19.95
from: HansonEllis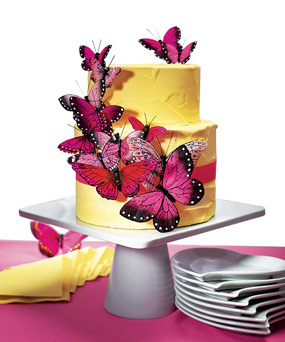 Hand Painted Romantic Pink Butterfly Cake Decoration – $19.95
from: HansonEllis


Beautiful Butterfly Cake Sets (Set of 25) – $19.99
from: My Wedding Favors
Favors
There are all kinds of creative wedding favors you can choose for your butterfly theme wedding. Butterfly shaped magnets are a cute choice.

Butterfly Personalized Magnet – $1.38
from: Escape Concepts
Or these porcelain Butterfly picks with almond bags are also a great way to combine modern romantic and traditional wedding favors:

Butterfly With Confetti Almonds – $4.00
from: Escape Concepts
Or, try giving your guests seed packets that will grow into butterfly-attracting flowers like cornflower, butterfly bush and honeysuckle.


Plantable Butterfly Wedding Favors – $1.65
from: Escape Concepts
Other popular wedding favors for all themes include disposable cameras, packets of birdseed and miniature bottles of blowing bubbles.

Butterfly Bubble Favors – $7.91
from: Beau-coup.com

Butterfly Cookie Cutter Favors – $1.72
from: Beau-coup.com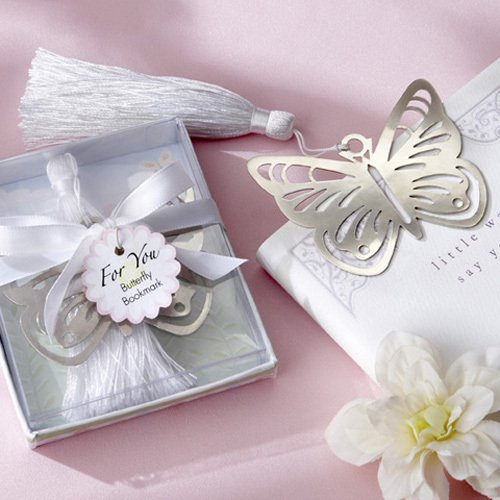 Butterfly Bookmark Favor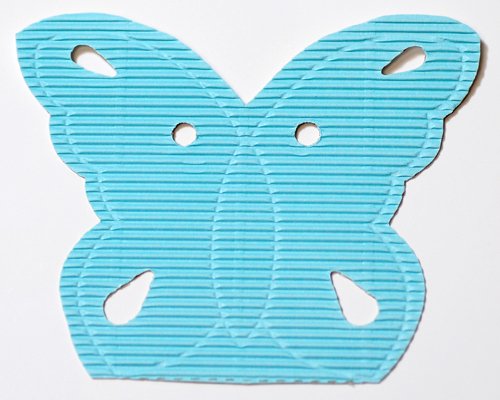 Butterfly Shaped Favor Boxes
from: Beau-coup.com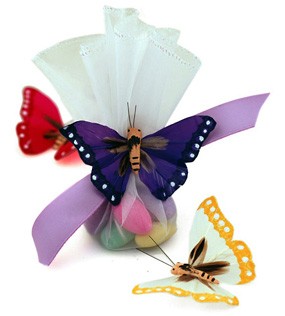 Butterfly Candy Tulle Favor